Welcome to the Adept-Able Living page, where you'll find odds and ends that relate to those of us "They" call disabled.  Actually, we're quite ADEPT at adjusting to obstacles in various forms, whether they be objects, people, situations, inconsideration, or ignorance of the law. We become quite ABLE to handle just about anything, living our lives not as brave inspiration for others but as people with goals and ambitions for ourselves and our loved ones.  This page contains thoughtful quotes, helpful hints for maintaining equipment, suggestions for items that have helped make my own life easier, information about laws, maybe some humor here and there, and whatever else I feel like writing about related to my life as a person with a physical disability .
I welcome comments, reactions, and suggestions. There's space for them at the bottom.  Please use that space and get a dialog going with me and with others who read this page.

 

HAVE YOU VISITED THE QUIZ-ICALS PAGE? SPEND A FEW MINUTES, HAVE SOME FUN, AND MAYBE LEARN A THING OR TWO.
.
holiday travel tips
If you intend to rent a home or condo, be aware that its owner doesn't have to play by the same ADA rules as hotels.  You may ask if it's accessible and get a "yes," then arrive to find out the owner's definition of the word is far different from yours or the ADA's.  Be sure to ask very specific questions—any steps or stairs at all (including sunken family room); if dual level, any bedroom/bath on the ground floor; size of bathroom doors and  tub or shower; located on a steep hill; etc.  The more specific you are, the more prepared you can be.  Also, if you don't drive, ask about accessible transportation, like buses, vans, and taxis that are available in the area.
Planning on flying? You may need to check in a wheelchair or scooter.  First thing you should do when receiving it at your destination is to look it over very carefully for damage.  Then drive it around a bit before leaving the airport.  If there's a problem, you must go at once to report it.  That way, the airline will repair or replace it.  Rules vary from airline to airline and whether you're flying within the U.S. or abroad.  Generally, though, airlines want to keep you as a customer and will work with you.
life-improving product:
bed raisers
Now that I'm older and not as strong or stable as I once was (which wasn't good to begin with), I've found that it's harder for me to stand up from my bed.  Using my crutches for leverage no longer works.  Now I have a set of bed-raisers on my bed's four feet, and they work well.
These things raise the height of the bed 3" – 5".  Some brands stack safely if you want to raise the bed as much as 8". They're better than blocks because they have wells in them to prevent the feet or casters from sliding off and letting the bed fall. Raise the whole bed or use these to raise only the head of the bed to create an angle to aid your digestion or breathing.
You can find them in many of the odds-and-ends magazines that show up in your mailbox, in department or bed-and-bath stores, and at Amazon.com.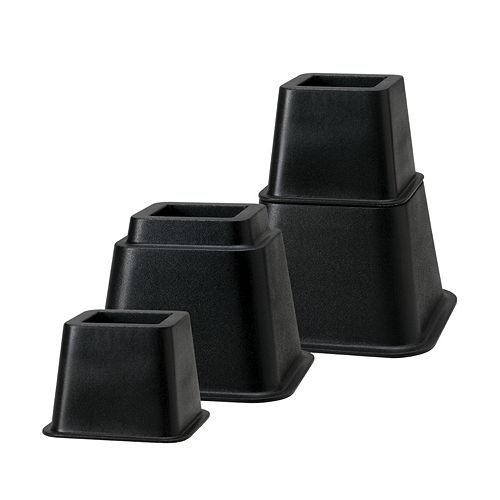 For previously posted products and services, click HERE.
.
 

IT'S THE LAW:
testing, testing….
It seems like whenever we want to get ahead, we have to take a test.  Whether education, professional licensing/certification, employment, or advancement, our futures rest on those tests. And, of course, the tests are standardized.  There's no room for people who have difficulty taking tests, for whatever reason.
Enter the Dept. of Justice.  The ADA is leveling the playing field.  It requires testing in ways that are workable for people with disabilities.  To see what kinds of tests are covered, accommodations that should be made, who is eligible, etc., go to http://www.ada.gov/regs2014/testing_accommodations.html.
   For previously posted items on laws, click HERE.
.
 

THAT'S A THOUGHT….
"I am not a victim. No matter what I have been through, I'm still here. I have a history of victory." – Steve Maraboli, Unapologetically You: Reflections on Life and the Human Experience
  F
or previously posted quotes,
click HERE
.
.
 

EQUIPMENT MAINTENANCE:
CPAP & similar devices
CPAP & Other Devices: Here's something that is so common sense that you'll think it not worth mentioning.  The trouble is, it's so common-sense that people overlook it.  Many breathing machines, CPAPs, and other such devices have filters that need to be cleaned regularly.  That's a chore that we'll do "tomorrow."  We put it off until we seldom or never do it.  Yet it's an easy job and one that affects not only the efficiency of the device but our health, as well.  Do you really want the gunk accumulating in the CPAP to be pushed repeatedly into your lungs all night?  Check the instruction manual for how to do it and how often—then DO IT!
(Source: DeVilbiss [mfgr.] and The Re-Mobilizers)
For previously posted equipment maintenance/safety ideas, click HERE.
IT ONLY HURTS WHEN I LAUGH….
While I sat in the reception area of my doctor's office, a woman rolled an elderly man in a wheelchair into the room. As she went to the receptionist's desk, the man sat there, alone and silent. Just as I was thinking I should make small talk with him, a little boy slipped off his mother's lap and walked over to the wheelchair. Placing his hand on the man's, he said, "I know how you feel. My Mom makes me ride in the stroller too."
 ><><  ><><   ><><   ><><   ><><  ><><  ><><   ><><    ><><
CONTRIBUTE TO THIS PAGE:  If you have a disabilities-related tasteful joke, thoughtful quote, product you've discovered, comment (positive or negative) about anything on this page, either  email it to Jackie at JackieOD@comcast.net or post it below.  It will be published here, with credit given to you.  Unless you prefer to be anonymous, be sure to give your name and city/state you live in.
><><  ><><   ><><   ><><   ><><  ><><  ><><   ><><    ><><